PlayStation? Xbox? Nintendo? Or maybe a Steam deck?
Steam Deck is not known by the masses, most probably just part of PC gamers knows what is the Steam Deck. And it would be strange the other way as it has not hit the shop shelf and most probably it will not be on the shelves this year.
Table of Contents
What is Steam Deck?
Steam Deck is a mobile, handheld gaming console and its primary are for playing games from Steam game library.

But there is one other, in our opinion, very important advantage of Steam Deck over other handhelds and gaming consoles in general. It's not only a gaming console but also a Linux workstation, and mobile computer.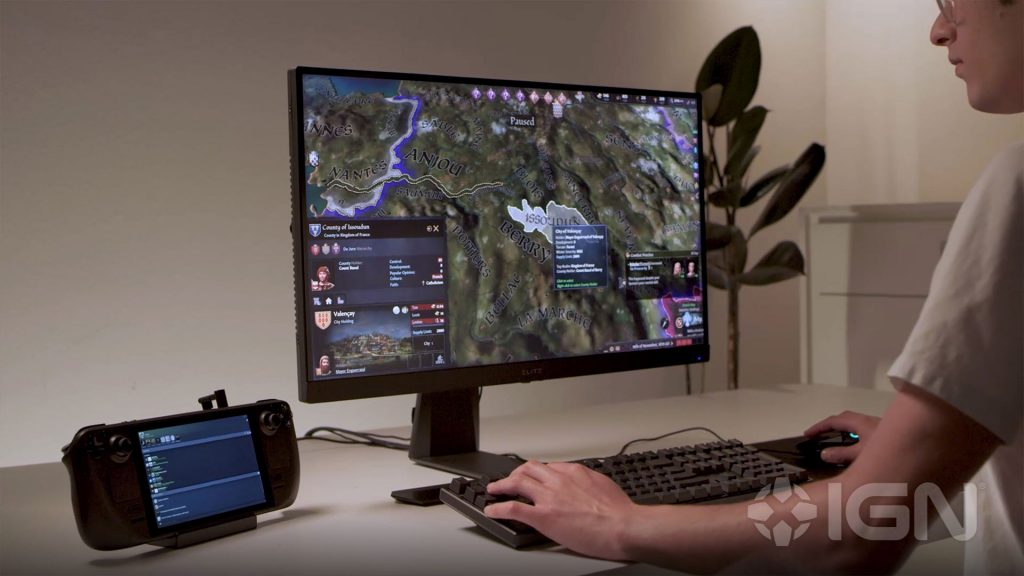 Most of us will use it to play some games from time to time sitting on the couch, or while on the road in a car or on the train, similar to Nintendo Switch.

Steam Deck as a workstation
This console can transform a workstation for students/children – add an external display, mouse, and keyboard and a full desktop is available for use to fill homework, do some projects, or do programming.

Yes, the most expensive version of the Steam Deck is about two times as expensive as Nintendo Switch, but the 2-in-1 aspect of the Steam Deck is very attractive, at least for us. If one is buying for their kids might be a good thing and probably could be some economy.
The cheapest version has a small amount of disk space, you can push in the micro SD card to extend the memory, which also would give you an opportunity to copy data from one desktop to another desktop or laptop if necessary.
There will be possible to upgrade the drive after the fact, but not everybody would be comfortable in doing so.

The pupil/student will need some kind of desktop or laptop to do their homework and Steam Deck could allow you to combine fun with studies, but well not everybody can do that. Steam deck could lower expenses as it would be possible to do the working and playing on the same device. Playing on the go, attach it to the dock and you can work on your projects, and tasks on it.
That's for consideration for each person, maybe it's better to get a laptop instead as working on the go on the laptop would be much more comfortable.
Where I can get one?
At the moment the device is possible to reserve, that costs 4 Euro. The first items are planned to ship around Christmas, but now, the waiting line is deep for the next year. The reservation is possible to cancel at any time if you could not wait and bought something else. You will get the reserved amount back in your digital wallet. Maybe it's a good idea to reserve, just in case?
Why steam deck is best thing since sliced bread?
Steam has a huge game library, there are discounts pretty often. If you have patience you can get good games for friendly prices. Well, new games at the hype moment will not come cheap on any platform and not all games that are on other platforms are on the steam store.
The gaming console has a pretty open ecosystem. You will be able to install things that are not sold via the steam store. You will be able to install your own games or free games, such as Minetest, Hedgewars, Super tux kart, Super tux
You will be able to run older gaming platforms emulators, for example, Dosbox, Fuse (ZX Spectrum), PlayStation, Nintendo
If you want to install other game libraries, launchers: Gog, Epic Games
Add mouse, keyboard, and display and use your steam deck as a desktop.
You can also use it with a VR headset, that's speculation, but my guess is that it will be possible, only need to see if the performance will be enough for VR. For sure there will be some reviews of this, just have to wait a bit until when the first items will be shipped.
It will be hard to find a similar versatile handheld gaming console, but everything has its drawbacks. For example, there will be games that will be exclusive to one or another platform and not available on the Steam store, but this goes both ways, not all games that can be found in the Steam library can be played on PlayStation, Xbox, or Nintendo Switch